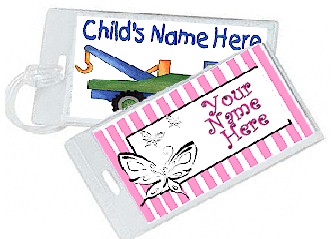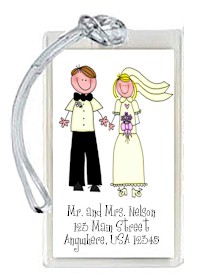 Clear Vinyl Bag Tags & Personalized Luggage Tags $8.99 Each!
Heavy Clear Vinyl Front, with a Sturdy Hard White Plastic Backing!
Perfect For Diaper Bags, Book Bags, Sports or Dance Bag, Backpacks, Luggage Tags, Gym Bags, Strollers, Lunch Boxes, Band Instrument Case...You Name It!
FREE SHIPPING IN THE USA!
(Other Countries, please Use shipping rates provided in shopping cart)
ALL ORDERS ARE SHIPPED THE DAY AFTER THEY ARE PLACED VIA REGULAR MAIL.

Features: Size is 2 1/4 By 4 1/8. All items are printed using a color laser printer (no inkjets here!)
LT1
$8.99
LT2
$8.99




LT3
$8.99
LT4
$8.99




LT5
$8.99
LT6
$8.99




LT7
$8.99
LT8
$8.99




LT9
$8.99
LT10
$8.99




LT11
$8.99
LT12
$8.99




LT13
$8.99
LT14
$8.99




LT15
$8.99
LT16
$8.99




LT17
$8.99
LT18
$8.99




LT19
$8.99
LT20
$8.99




LT21
$8.99
LT22
$8.99




LT23
$8.99
LT24
$8.99




LT25
$8.99
LT26
$8.99




LT27
$8.99
LT28
$8.99




LT29
$8.99
LT30
$8.99
LT

31


$8.99
LT

32


$8.99
LT

33


$8.99
LT

34


$8.99
LT

35


$8.99
LT

3

6
$8.99
LT38
$8.99
LT39
$8.99
LT

40


$8.99
LT

4

1
$8.99
LT

4

2
$8.99
LT

43


$8.99
LT

44


$8.99
LT

45


$8.99
LT

4

6
$8.99
LT

4

7
$8.99
LT

4

8
$8.99
LT

4

9
$8.99
LT50
$8.99
LT51
$8.99
LT52
$8.99
LT53
$8.99
LT54
$8.99